Projects
Wonderwater Frozen Lights

Wonderwater Frozen Lights celebrated the Open Doors Weekend of the World Design Capital Helsinki 2012 with a dramatic installation of ice lanterns by leading Finnish designers to raise awareness of the water footprint in Helsinki's Senate Square. Leading designers including Studio Suppanen, Artek Studio, Aalto Design Factory, Edisonit, BFlander & Comp., Aivan, Vallila Design Studio, Design Forum Finland,  Sebastian Jansson + MottoWasabi, Pentagon Design, Kukkapuro-Enbom, Lab Arkitehdit, Makia, Koln im Frozen Lights and Stefan Lindfors, were each given a 150 L block  of ice – representing the amount of water a  Finn uses daily – and worked bravely in freezing temperatures to realize a series of extraordinary ice lantern designs.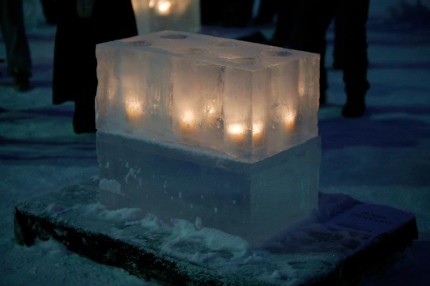 In addition, two massive 3,873 L ice blocks represented the daily water footprint per person in Finland. The lanterns were lit at dusk, illuminating the white square. The judges awarded first prize to Kukkapuro-Enbom, and honorary mentions to Design Forum Finland and Pentagon. The people of Helsinki were invited to bring their own ice lanterns to the stage or enter their design on facebook, and prizes were awarded to the best in each class.
The judges – Finnish design icon Vuokko Nurmesniemi, Anneli Alftan from the WWF Finland and Jane Withers from Wonderwater – selected  Kukkapuro-Enbom as the winner. Honorary mentions were given to Design Forum Finland and Pentagon Design.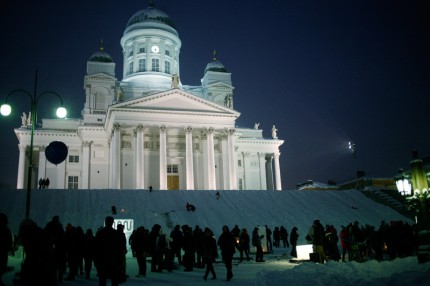 Wonderwater & WWF Finland
Wonderwater is joining forces with WWF Finland to raise awareness of the water footprint. "Finland is one of the richest countries when it comes to water resources. A significant part of the products that Finns use, like groceries and cotton, however, originate in areas with limited water resources. Our consumption habits affect the state of water environment. WWF wishes to devote more attention to tackling the issue of the water footprint in Finland. Together with Wonderwater, we can illustrate this issue in an interesting way", says Jussi Nikula, WWF Finland Program Manager.
In case you missed the Frozen Lights event at Senate Square, you still have a chance to see some of the ice lanterns at the Icecellar Cafe in Suomenlinna. Details here
Go to press for more on this event.
More on Facebook
More images on our Flickr
© Photos Aino Huovio